Spanish version...
English version home page...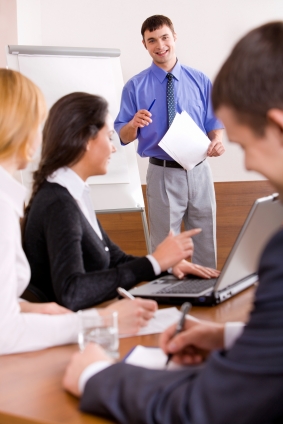 How to speak and be convincing in English in front of an audience. When considering the English language skills required in the workplace today, the ability to give a presentation is probably the most important. Furthermore, this skill is also the most challenging for the non-native speaker. Giving a formal presentation means you must stand up in front of an audience, try to sell your ideas, be convincing, diplomatic, concise, knowledgeable, and all in a foreign language!
Despite the challenges involved, more and more of my business English students are now called upon by their companies to give presentations in English although their language level may be below intermediate level. Presentations should be given by specialists in their particular field of work and not by those employees who simply have the best level of English.
This means that a company with international connections may have to choose someone to talk about his or her area of work even though their English language level is not good. However, it is possible to give presentations without having advanced English if you plan correctly, take time to practise pronunciation and key English phrases and rehearse your talk beforehand.
The following pages offer you, the business English student and company professional, advice and practical help to best prepare your presentation in English...
Part 1 - Pronunciation of technical vocabulary
Copyright 2018 English Spanish Link
All rights reserved